PRE-ORDER JULIE'S MEMOIR:
For the Life of Me:
JOURNIES OF A MODERN MYSTIC MOTHER
release date: November 13th, 2019
Collectively, we are currently at a defining moment in history where humanity is crying out for real authentic life guidance; a blueprint of transformation that they can model to light the path of their own unique life journey. We are yearning to find meaning in an increasingly chaotic and unpredictable world. We are now truly understanding that the solutions to our life problems are requiring a quantum shift of perspective.
For The Life Of Me: Journeys Of A Modern Mystic Mother eloquently answers this call as the modern day memoir destined to take its rightful place in this lineage of spiritual tomes serving as a much needed guiding light for humanity. For The Life Of Me is destined to become one of the foremost spiritual tomes of this age and a vital divine offering to join the mandala of spiritual classics available to guide us all on our journey home! For The Life Of Me will be the prominent book that guides any truth seeking individual living in the modern world, to realize the life they were meant to live.
Free from tips and life hacks, For The Life Of Me is the best variety of self-help; a living example of a meaningful life. A spellbinding story told with origins in the unseen world, finding its way to fruition of an entire spectrum of a very human life with no purpose other than soul evolution and expansion.

FOOD + LIFESTYLE BOOKS
Julie Piatt is a prolific plantbased chef and author of three best selling cookbooks. Her food is characterized by lively tasty creative flavors that satiate you and your loved ones. She came into creating food as a love offering to her plantbased endurance athlete husband and world reknowned podcast host, Rich Roll. Now, she is the leading innovator of plantbased cheese and will be launching her own brand of in store cheeses later this year. Through these cookbooks and their podcasts Julie and Rich have inspired thousands to live healthier more connected lives.
In This Cheese Is Nuts, Julie is bringing that message to the forefront once more, with a stunning collection of flavorful nut-based cheeses. Julie has always been known for her dairy-free cheeses, and here she shares seventy-five recipes using almonds, cashews, and other nuts to createcheeses anyone can make right at home. Nut-based cheeses are on the cutting edge in the world of vegan cuisine. They're remarkably simple to prepare (all you need are a few simple ingredients and a basic dehydrator), and in as little as twenty minutes, you can have an assortment of tasty fresh cheeses fit for any occasion. Even creating aged cheeses is easy—they require only a day or two inthe dehydrator, so making "fancier" cheeses, like Aged Almond Cheddar, is analmost entirely hands-off process. And though they're delectable on their own,Julie's nut-based cheeses are a terrific component in her recipes for Raw Beet Ravioli with Cashew Truffle Cream, Country Veggie Lasagna with Fennel andBrazil Nut Pesto, French Onion Soup with Cashew Camembert, and more. Filled with the essential tips, tools, and mouth-watering recipes home cooks need to immerse themselves in the world of nut-based cheese-making, This Cheese Is Nuts will demonstrate why nut cheeses should be part of any healthy, sustainable diet.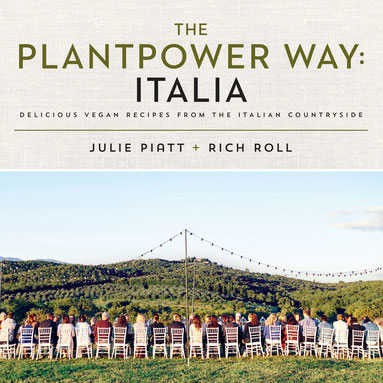 the plantpower way: italia
The Plantpower Way: Italia is a celebration of Italy's most delicious flavors and will show everyone a fresh, beautiful, and healthful side to Italian cooking.
A plant-fueled lifestyle guide to la bella vita, complete with 125 vegan Italian recipes, paying homage to Italy's rich food history. Julie is known for her creativity and resourcefulness in the kitchen, and her recipes will show just how rich and luscious Italian cuisine can be, without a drop of dairy in sight! Filled with fresh vegan takes on Italian staples, inventive new recipes, and stunning photographs of the Italian countryside,
a transformative family lifestyle guide on the power of plant-based eating—with 120 easy-to-prepare whole food recipes, including hearty breakfasts, lunches, and dinners, plus healthful and delicious smoothies and juices, and decadent desserts.
PHOTO: JAN WELTERS, CREATIVE DIRECTOR LUCY PINTER